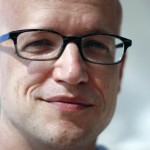 I'm Logan Hill, a film-crazed, pop-addled writer who grew up in the Sandhills of North Carolina, about 12 miles from a stoplight. Now I live in Brooklyn, a half-block from the Brooklyn Queens Expressway.
I earned a degree in English from UNC-Chapel Hill in 1996 and spent a couple years at Yale's Ph.D program in American Studies. Then I dropped out with a Master's because I decided to stop writing about dead people and start talking to people who are, well, alive. I've been doing that ever since and, on the whole, I've found the living to be much more unpredictable.
I started my career at New York, where I fell hard for the city and covered arts and culture for eleven years, from Robert Downey Jr. and Madonna to Spike Lee and Woody Allen. I edited film and theater sections, while reporting features about political activists, Kanye West, and the late, great founder of Benihana, Rocky Aoki. With brilliant colleagues, I had a blast launching Vulture in 2007, while editing features, blogging, and obsessively covering Mad Men. (For the last two seasons, I've recapped the show for The New York Times). I also spent a year as a Senior Editor at GQ.
Now, as a freelancer, I mix it up. At The New York Times, I regularly contribute features, moderate TimesTalks, and profile breakthrough actors for seasonal previews. At Cosmopolitan, I write the magazine's monthly column "Ask Him Anything" and the site's weekly column "Ask Logan." I've written dozens of cover stories about people like Rihanna, Claire Danes, and Ethan Hawke; reported on the evolution of action-hero physiques; and told the story of a sci-fi-obsessed teen runaway. I've contributed to This American Life, Bloomberg Businessweek, Cosmopolitan, Details, Elle, Entertainment Weekly, Esquire.com, Fast Company, Glamour, GQ, Grantland, The Hairpin, I.D., Indiewire, InStyle, Los Angeles, Made Man, Maxim, Men's Journal, The Nation, Nerve, The New York Times, The New York Times Magazine, NY Post, NY Press, The Plain Dealer, Playboy, Poets & Writers, Publishers Weekly, Rhapsody, Rolling Stone, Screencrush, SXSWorld, Time Out NY, Town & Country, Variety, The Village Voice, VMan, Wired News, Wired, WSJ, and Yahoo.com.
I'm a regular guest film critic on NY1's nationally syndicated, show "Talking Pictures on Demand." I've also yammered away on A&E, ABC, BBC America, CBS, Fusion, MSNBC, MTV, VH1, and other channels. I've been a Tony Awards voter, served on prize juries (SXSW Film Festival, Doc NYC, Sarasota Film Festival, Woodstock Film Festival, Yale Series of Younger Poets Competition, etc.), and moderated public conversations with artists, including TimesTalks, The Stoop Series (a New York series I co-created), and panels, everywhere from the Cannes Film Festival to New York's Paley Center for Media.
Want to talk? Email logan@loganhill.com or: Follow @loganhill33
.